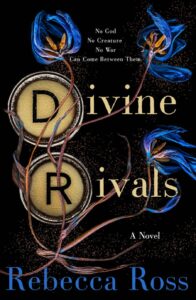 Divine Rivals
by
Rebecca Ross
Published by
St. Martin's Publishing Group
on April 4, 2023
Genres:
Young Adult Fiction / Fantasy / General
,
Young Adult Fiction / Fantasy / Romance
Pages:
368
Format:
ARC
Source:
Netgalley and Publisher
Buy on Amazon
Goodreads

When two young rival journalists find love through a magical connection, they must face the depths of hell, in a war among gods, to seal their fate forever.

After centuries of sleep, the gods are warring again. But eighteen-year-old Iris Winnow just wants to hold her family together. Her mother is suffering from addiction and her brother is missing from the front lines. Her best bet is to win the columnist promotion at the Oath Gazette.

To combat her worries, Iris writes letters to her brother and slips them beneath her wardrobe door, where they vanish—into the hands of Roman Kitt, her cold and handsome rival at the paper. When he anonymously writes Iris back, the two of them forge a connection that will follow Iris all the way to the front lines of battle: for her brother, the fate of mankind, and love.

Shadow and Bone meets Lore in Rebecca Ross's Divine Rivals, an epic enemies-to-lovers fantasy novel filled with hope and heartbreak, and the unparalleled power of love.
I received this book for free from Netgalley and the publisher in exchange for an honest review. This does not affect my opinion of the book or the content of my review.
My Thoughts
I don't know if I should be eternally grateful or absolutely furious that Wednesday Books put this story on my radar then allowed me to read it early… my heart. It hurts. And I have to wait so long for company to join my misery and a sequel to be the balm to my soul. Hopefully.
I absolutely LOVED Divine Rivals by Rebecca Ross and am still thinking about it weeks later. The vibe of the world is incredibly unique. We have rival journalists with fantastic tension fighting for the same job (and then their lives) in a world torn apart by a WWI-esque war with opposing sides being called to fight for the Gods/Goddesses. Divine Rivals was one of those rare stories where all the open tabs in my brain closed and I was completely and utterly transported. I adored every character and felt the building tension and dread in my bones. The romance was swoon worthy and the ending… well that was just mean.
Overall
Since we have several months still before release, I am being intentionally vague but I absolutely recommend you add this one to your 2023 TBR. Divine Rivals had everything I look for in a favorite book: world building that allows me to escape into the story, lovable characters, swoon worthy romance, emotionally devastating storytelling and all the tension. Bit bruised I have to wait an undetermined amount of time for book two. Guess I will just have to devour Ross' entire back list.
Definitely one of my favorite reads of the year.
Currently set to release April 4th, 2023!
Recommended for fans of: enemies to loves, magic, warring deities, historical vibes, tension that boarders on dread, rivals, and letters to strangers.
Please note there are depictions of war on the page. Read safely friends.