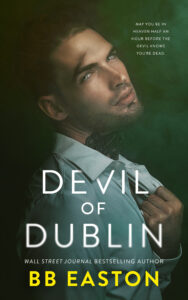 Devil of Dublin
Published by
Art by Easton
on September 22, 2022
Genres:
Dark Romance
,
Fairy Tales & Folklore
,
Mafia Romance
Pages:
352
Format:
ARC
Buy on Amazon
Goodreads

From the Wall Street Journal bestselling author of 44 Chapters About 4 Men (inspiration for the Netflix Original series Sex/Life) comes a dark mafia romance steeped in Irish folklore.

I can't remember anymore if my grandfather's eyes were blue or green, but I'll never forget the way they wrinkled at the corners when he laughed at one of his own jokes. Or the way they sparkled with mischief when he told me tales about the magical creatures that dwelled in the forest behind his humble Irish sheep farm—shy fairies who liked to eat tea biscuits, cruel witches who liked to eat children, a moody lake spirit with a taste for expensive gifts.

As a child, I believed every fantastical word. But when he warned me about the mute boy who also lurked in those woods, the one the priest had declared to be the spawn of Satan himself, I refused to listen. Kellen wasn't evil. He was kind, and beautiful, and special, and hurting. He was my friend. And with every summer I spent stolen away with him in those enchanted woods, he grew to become so much more.

But when I return to Glenshire as an adult, grieving and engaged to someone else, all those legends quickly morph into nightmares.

My grandfather had been right about everything, especially the boy.

If only I had listened.

WARNING: If you are a sensitive reader or find certain topics to be emotionally triggering, please exercise self-care and select a different book. Devil of Dublin is intended for mature audiences who enjoy dark subject matter, tortured anti-heroes, explicit adult content, graphic violence, heart-pounding suspense, fairy-tale worthy love, and gorgeous Irish scenery. If that sounds like you, then welcome to Glenshire!
I received this book for free from Valentine PR & Literary Management in exchange for an honest review. This does not affect my opinion of the book or the content of my review.
My Thoughts
If you are a fan of BB Easton, particularly the Rain Trilogy, then you know she is a bit of a seer sometimes *waves at 2020* So I really shouldn't have been too surprised when I cracked open an ARC of her latest, Devil of Dublin, on September 8th… and read dialogue from characters that are strikingly familiar to current comments of world wide events. Creepy. Hey BB – can you make your next book a less 'effed up world for us all please?!?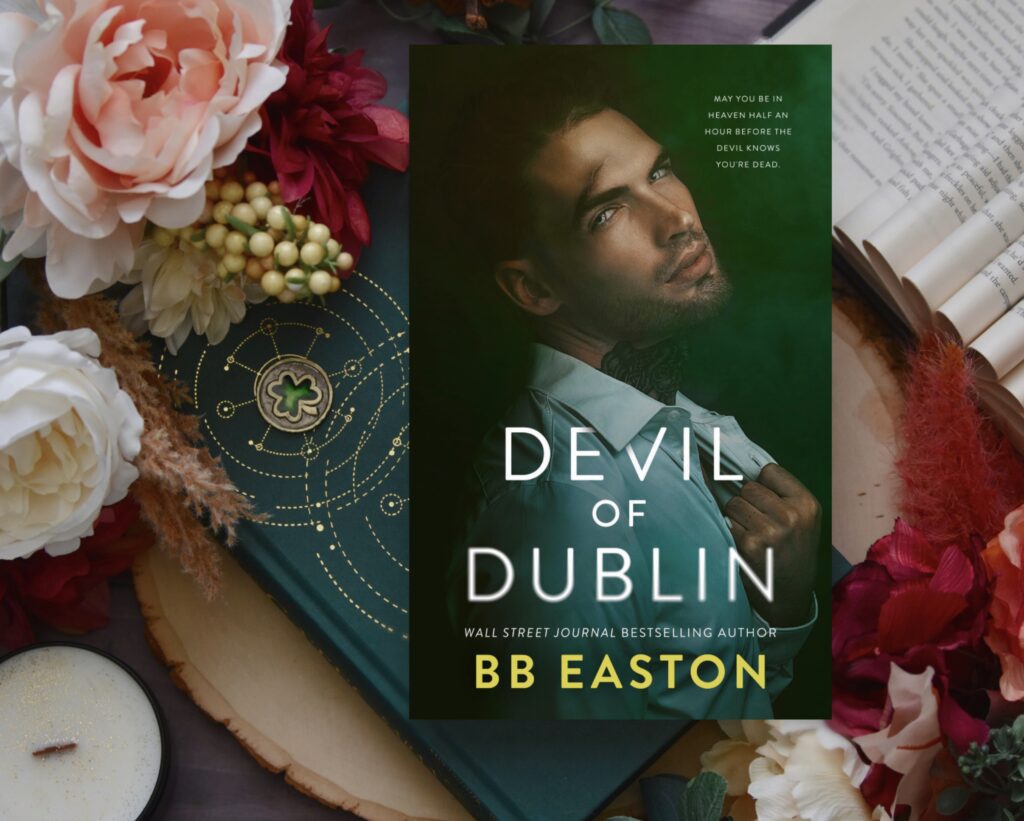 May you be in heaven half an hour before the Devil knows you're dead.
There is so much I want to say about Devil of Dublin but also so much I do not want to give away. Once again I am blown away by BB's ability to bring together several genres in such an incredible way. I was held emotionally hostage by the dark, brooding suspense of the tortured pasts and gritty mafia elements while being transported to Ireland through the touches of folklore, whimsy and fate woven throughout the heavy themes. This is BB Easton's best work to date.
The first part of the story is told from the past when Darcy and Kellen meet as kids playing in the woods of Glenshire. The foundation of their bond built in those woods was so incredibly beautiful. Darcy was such a force light for a boy who was convinced by the adults around him that he was the devil. My only challenge with this section of the story was the actual narrative distracted me a little because personally, their internal dialogue felt more grown than they actually were. But that is so minor compared to how much I loved their time discovering fairy rings and magical lakes.
For the bulk of the story, Dacy and Kellen are brought back together as two very changed adults with their own baggage and one hell of a ride. BB did a brilliant job shining a light on the intimate impact of trauma and the imperfect process of healing those wounds. Their journey was haunting, enduring, and utterly mesmerizing.
Overall
Did I stay up until 2am to finish this book when I should have been sleeping cause I had fricking pneumonia? Yes, yes I did. Do I regret it? Not a chance. Devil of Dublin is a well-paced, emotional, heartbreaking and raw romance that is sure to leave its mark on your heart. I absolutely loved this story and am doubling down on this being BB's best work to date. So much so, I am 100% rereading the audiobook version on release day and it will be among my yearly BB rereads.
Recommended for fans of: Mafia romance, romantic suspense, tortured leads, second changes, Irish folklore, tragic pasts, and fated love
Devil of Dublin is out September 27th, 2022!
Pre-Order You Copy Here:
Amazon
Amazon Worldwide
Apple Books
Nook
Kobo
Google Play
Meet the Author
Wall Street Journal bestselling author BB Easton lives in the suburbs of Atlanta with her long-suffering husband, Ken, and two adorable children. A few years ago, she quit her job as a school psychologist to write books about her punk rock past and deviant sexual history full-time. Ken wasn't super excited about that, but now that he's appeared in three of her books and inspired a TV show character, he's incredibly supportive.
BB's debut memoir, 44 Chapters About 4 Men, went on to inspire the Netflix original series, Sex/Life, which was viewed by 67 million households worldwide within the first month making it the 3rd most-watched Netflix original series of all time. Because she had so much fun writing 44 Chapters, BB went on to publish four more wickedly funny, shockingly steamy, and heartwarmingly autobiographical books, one for each man in her memoir—Skin, Speed, Star, and Suit.
The Rain Trilogy—a dark, immersive, end-of-the-world romance—was BB's first work of fiction. Or at least, that's what she thought when she wrote it in 2019. Then, 2020 hit, and all of her dystopian plot points started coming true. Hoping to fix everything, BB returned with a fun, feel-good romantic comedy called Group Therapy, but alas, the world is still on fire … and so is BB's desire to write intense, us-against-the-world romances. Her next release, Devil of Dublin, is a dark Irish mafia romance steeped in folklore and family secrets.
You can find BB procrastinating in all of the following places:
Website
Instagram
TikTok
Facebook
#TeamBB Facebook Group
Twitter
Pinterest
Spotify
Goodreads
BookBub