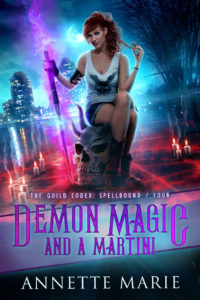 Demon Magic and a Martini
by
Annette Marie
Published by
Dark Owl Fantasy Inc.
on April 12, 2019
Genres:
Dark Fantasy
,
Paranormal Romance
Pages:
269
Format:
ARC
,
eBook
Source:
Author
Buy on Amazon

When I first landed a bartending job at the local guild, I didn't know a thing about magic. These days, I'm practically an expert on the different magical classes, but there's one nobody ever talks about: Demonica.

Turns out they have a good reason for that.

My guild is strictly hellion-free, but some people will risk life and soul to control the biggest bullies on the mythic playground. And now a demon has been loosed in the city.

My three best friends are determined to slay it, but even badass combat mages are critically out-magicked. And that's not all. The monster they're tracking--it's not hiding. It's not fleeing. It's not leaving a trail of corpses everywhere it goes.

The demon is hunting too. And in a city full of mythics, it's searching for deadlier prey.

If we can't unravel the demon's sinister motivations, more innocent people will die, but finding the answers means digging into dark secrets...and learning truths I never wanted to know.

--
Note: The three mages are definitely sexy, but this series isn't a reverse harem. It's 100% fun, sassy, fast-paced urban fantasy.
I received this book for free from the author and the publisher in exchange for an honest review. This does not affect my opinion of the book or the content of my review
My Thoughts
Demon Magic and a Martini is the fourth book in Annette Marie's Guild Codex: Spellbound series and wanderers, I am still so hooked on this world and these characters!
Typical to Tori's life, just when things seem like they are going well… BAM disaster hits. This time in the form of a demon that our three favorite mages must hunt down in order to keep their secrets hidden… or die trying. I was really excited to read more about our mysterious cinnamon roll, Ezra, in this one. Demon Magic was a bit darker and more serious than previous adventures but with each new reveal, I fell more in love with the characters and the depth of their friendships. They hit you straight in the feels and are my favorite part of this series. I did find myself missing Zak a bit at first (I love his character) but the demon did get his claws into me eventually. I cannot wait to see what happens next. And did you see that Guild Codex spin-off coming?!? Very intrigued…
Overall
Overall Demon Magic and a Martini was another great, fast paced, witty adventure. It was fun to experience this new magic but also peel away more layers of our main characters. If you are not familiar with Annette Marie, she writes really cool urban fantasy worlds that I highly recommend.
Recommended for fans of: The Southern Vampire series, paranormal romance, urban fantasy, snarky heroines, loyal friendships and so much sass.