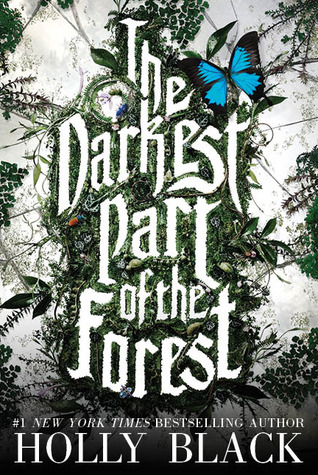 The Darkest Part of the Forest
by
Holly Black
on January 19th 2016
Genres:
Fantasy
,
Young Adult
Pages:
331
Format:
eBook
Source:
Purchased
Buy on Amazon
Goodreads

In the woods is a glass coffin. It rests on the ground, and in it sleeps a boy with horns on his head and ears as pointed as knives....

Hazel and her brother, Ben, live in Fairfold, where humans and the Folk exist side by side. Tourists drive in to see the lush wonders of Faerie and, most wonderful of all, the horned boy. But visitors fail to see the danger.

Since they were children, Hazel and Ben have been telling each other stories about the boy in the glass coffin, that he is a prince and they are valiant knights, pretending their prince would be different from the other faeries, the ones who made cruel bargains, lurked in the shadows of trees, and doomed tourists. But as Hazel grows up, she puts aside those stories. Hazel knows the horned boy will never wake.

Until one day, he does....

As the world turns upside down, Hazel has to become the knight she once pretended to be. But as she's swept up in new love, with shifting loyalties and the fresh sting of betrayal, will it be enough?

The Darkest Part of the Forest, is the bestselling author Holly Black's triumphant return to the opulent, enchanting faerie tales that launched her YA career.
My Thoughts
With the recent release on The Cruel Prince, I have been hearing a lot about Holly Black, but had never read any of her work. The Darkest Part of the Forest was recommended to me as a good standalone but also had ties to The Cruel Prince so I figured, why not start there? I'll admit, I was a little skeptical that Ms. Black was going to have a new fan when the book opened at a high school party. And Hazel seemingly kissing everyone for no reason.  Then it shifted into this eerie, magical story that was not at all what it seemed.
I loved him and I loved him and he's dead and gone and bones. Dead and gone and bones.
Tell me that line does not give you the hebejebes. The creepiness in this book was completely unexpected and I  absolutely loved it! You have a monster terrorizing a small town, a mysterious horned boy, and a high school girl who is in the middle of it all.
Ancient Faerie Wildness in a Modern Small Town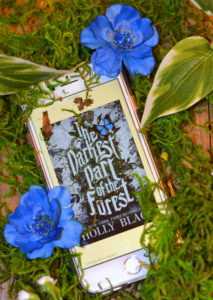 There were so many things that I enjoyed about this book. Holly Black brings to life a vivid world of ancient faerie wildness (the folk) juxtaposed with life in a modern small town. View Spoiler »She also flips traditional fairy tale stereotypes on their head by allowing Hazel to be the brave knight and Ben to get his prince. « Hide Spoiler
This might be my therapist self talking, but it was some of the underlying themes that enchanted me the most. I thought Sorrow was a beautiful depiction as to how grief and depression can grip our body and soul, isolating us and sometimes making us into someone we don't recognize. I also thought how she showed the long lasting impact of childhood trauma and neglect, was well done. These experiences led Hazel and Ben to a path were they held the burden of deeply buried secrets that kept people at arms length, including each other. I loved that through their trials and relationships they were able to recognize some of these wounds and be triumphant over their past in the end. I also thought the reaction of the town to Jack was really relevant to today. People often point fingers at those that are different instead of looking inward for the solution to the challenges they face. Finally, I seriously may have cheered when Jack's parents told off the towns people. #parentinggoals
All in all… Ms. Black did end up with a new fan. This was an engaging, well-paced adventure with just the right amount of romance. I am looking forward to reading the rest of her work!
Recommended for fans of: YA Fantasy, Faeries, Magic, Stand alone novels, YA Romance
 You might also like:
Steel and Stone Series by Annette Marie
What is your favorite twisted fairy tale?