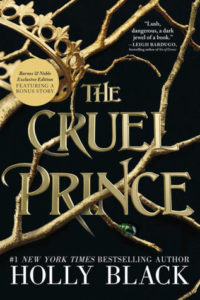 The Cruel Prince (The Folk of the Air, #1)
by
Holly Black
on January 2nd 2018
Genres:
Fantasy
,
Young Adult
Pages:
384
Format:
Audiobook
,
Hardcover
Source:
Purchased
Buy on Amazon
Goodreads
Of course I want to be like them. They're beautiful as blades forged in some divine fire. They will live forever. And Cardan is even more beautiful than the rest. I hate him more than all the others. I hate him so much that sometimes when I look at him, I can hardly breathe.

Jude was seven years old when her parents were murdered and she and her two sisters were stolen away to live in the treacherous High Court of Faerie. Ten years later, Jude wants nothing more than to belong there, despite her mortality. But many of the fey despise humans. Especially Prince Cardan, the youngest and wickedest son of the High King.

To win a place at the Court, she must defy him–and face the consequences.

In doing so, she becomes embroiled in palace intrigues and deceptions, discovering her own capacity for bloodshed. But as civil war threatens to drown the Courts of Faerie in violence, Jude will need to risk her life in a dangerous alliance to save her sisters, and Faerie itself.
My Thoughts
I really wanted to love this book. Truly. There was so much hype surrounding it and so many positive reviews that I had relatively high hopes, albeit with a touch of skepticism. However, after finishing it I feel as conflicted and contradictory as the characters. I can't say that I didn't enjoy The Cruel Prince, I did. It was entertaining and Holly Black is wonderful at developing the wicked ways that I always associate with the Fae. On the other hand, I found myself wondering why it was even called The Cruel Prince when he was missing for large portions of the book. It really should have been called The Cruel Mortal Girl…
What I Liked
The Cruel Prince opened brutally and continued into the the story with a looming darkness and an undercurrent of deceit. There is no clear hero or villain. No creature is as it seems but all are doing what they believe is necessary for survival.
I enjoyed that Cardan and Jude mirrored each other in many ways. Both have experienced trauma and dealt with it by becoming as cruel as their abuser allowing the buried trauma to rot away who they were before. They both loath themselves so profoundly, especially Cardan, that they have become powerlessly ensnared in their lives. And they hate each other because they see everything they are missing reflected back at them without ever considering what might be behind the other's mask. I am interested in seeing how these two evolve over the course of the series.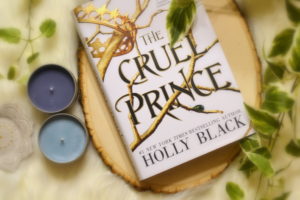 Have I mentioned yet that I loved Cardan? At least compared to the other characters in this book. He is absolutely a cruel and arrogant drunk but during the second half of the book the mask began to slip and we were able to see a bit of the male he could have been and might still become. As a reader, I appreciate when I can go from loathing a character, to empathy, to actually liking them.
The banter between the Court of Shadows was a highlight for me, as was Vivi. She added an authenticity and transparency that the others did not have, despite holding her own secrets from someone important to her. At least her secret was out of caring for someone and insecurity instead of power, revenge, cruelty or some game.
Finally, having read The Darkest Part of the Forest first, it was fun to see some familiar faces in the story line of The Cruel Prince.
What Drove Me Crazy 
One word: Jude. I can appreciate a strong but dark female character. In fact, I love them! But I found Jude to be selfish, insecure and hypocritical. She hates the folk and her situation, yet wants to be one and refuses to leave their world when given the opportunity. If fact, she decides to be worse than the Folk. Jude becomes everything she hated – a power hungry bully who reveled in others pain.
I think part of my problem was that there were so many inconsistencies with Jude. She wanted purpose and power at any cost, yet in the end I am supposed to believe she did it for family? Her hate for Cardan was also murky for me. It's because he is a beautiful, cruel prince? It's because she was always bullied or the bullying started due to a specific recent event? At times I found her to be unnecessarily cruel and selfishly stupid in her decision making. Like being more than willing to believe the best from Locke yet the worst of Cardan. She could see the times one appeared to help while ignoring the times the other actually did help.
I also found the interactions to be a bit juvenile and petty at times (YA, I know…) despite the darkness of the story; however, I supposed that is a bit more authentic for a teen than the grand scheming and murdering.
Overall
All in all, I am intrigued enough to read the next book. I found The Cruel Prince to be a bit slow but smoldering story that finally catches fire just after half way through turning into a wildfire that leaves everyone scarred in the end. Even though I didn't always like the characters, I think if you can make me feel something as a reader that is a win in my book.
While there is the hint at future romance, the focus of the first book in this series is really on court politics. Think lots of arrogance, scheming and heads rolling. If that's your thing, you would probably enjoy The Cruel Prince.
Recommended for fans of: Holly Black, wicked fae, cruel characters, court politics, YA fantasy