Circle of Shadows
by
Evelyn Skye
Published by
HarperCollins
on January 22, 2019
Genres:
Young Adult Fiction
,
Fantasy
Pages:
464
Format:
ARC
,
eBook
Source:
Edelweiss and Publisher
Buy on Amazon
Goodreads
A thrilling new fantasy series full of magic and betrayal—from Evelyn Skye, New York Times bestselling author of the Crown's Game series.

Sora can move as silently as a ghost and hurl throwing stars with lethal accuracy. Her gemina, Daemon, can win any physical fight blindfolded and with an arm tied around his back. They are apprentice warriors of the Society of Taigas—marked by the gods to be trained in magic and the fighting arts to protect the kingdom of Kichona.

As their graduation approaches, Sora and Daemon look forward to proving themselves worthy of belonging in the elite group—but in a kingdom free of violence since the Blood Rift Rebellion many years ago, it's been difficult to make their mark.
So when Sora and Daemon encounter a strange camp of mysterious soldiers while on a standard scouting mission, they decide the only thing to do to help their kingdom is to infiltrate the group. Taking this risk will change Sora's life forever—and lead her on a mission of deception that may fool everyone she's ever loved.

Love, spies, and adventure abound as Sora and Daemon unravel a complex web of magic and secrets that might tear them—and the entire kingdom—apart forever.
I received this book for free from Edelweiss and the publisher in exchange for an honest review. This does not affect my opinion of the book or the content of my review. Thank you HarperCollins!
My Thoughts
Warrior schools. Magic. Japanese influences… I was absolutely ecstatic to have the opportunity to read Circle of Shadows early; however, I ended up with some mixed feelings.
The first half of the book felt a tad predictable and slow paced so it took a little big to connect to the story. I usually don't have any issues with changing POV, but its use in Circle of Shadows felt a little clunky and took time to get into the swing of things. A few of the characters also felt a little inconsistent through out the story, like Prince Gin who described guilt early on but that part of him seemed to get ignored later in the story
What I did find intriguing was the world building and magic system. I am a sucker for fantasy worlds inspired by Japanese culture and the taigas felt like ninjas with magic inspired by animals. It was so fascinating and I wanted to see more. I also really loved the Empress. There was a moment toward the end that gave my goosebumps.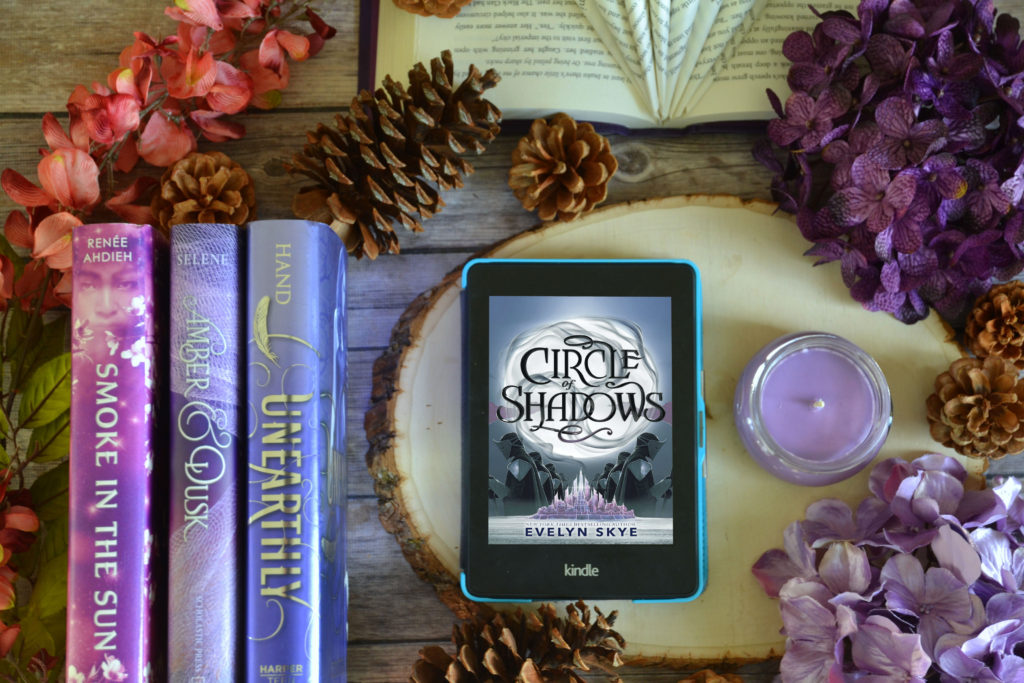 Lets talk about that ending…
If the first half of the book was hard to get into, the last half of the book was unputdownable. Wild ride is the best description but one that comes to a brutal, earth shaking end. Or train crash you can't stop or look away from. I am still shook. The ending alone will be the reason I pick up the next book. I MUST KNOW WHAT HAPPENS.
Overall
At times, Circle of Shadows felt a bit to easy and predictable but the whole last half of the book was thrilling, surprising and utterly shocking. You will absolutely find me picking up the next book… the day it is out so I can binge it and find out what happens next. I am definitely interested in checking our more from Evelyn Skye .
Recommend for fans of: Japanese inspired fantasy, warrior academies, magic wielding ninjas, cliff hangers
What was the last book that left you utterly shook?