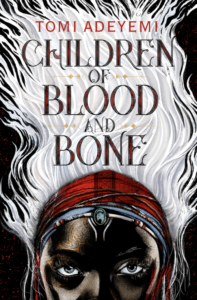 Children of Blood and Bone (Legacy of Orïsha, #1)
by
Tomi Adeyemi
Published by
Henry Holt Books for Young Readers
on March 6th 2018
Genres:
Fantasy
,
Young Adult
Pages:
544
Format:
Audiobook
,
eBook
,
Hardcover
Source:
Purchased
Buy on Amazon
Goodreads

They killed my mother.
They took our magic.
They tried to bury us.

Now we rise.

Zélie Adebola remembers when the soil of Orïsha hummed with magic. Burners ignited flames, Tiders beckoned waves, and Zélie's Reaper mother summoned forth souls.

But everything changed the night magic disappeared. Under the orders of a ruthless king, maji were killed, leaving Zélie without a mother and her people without hope.

Now Zélie has one chance to bring back magic and strike against the monarchy. With the help of a rogue princess, Zélie must outwit and outrun the crown prince, who is hell-bent on eradicating magic for good.

Danger lurks in Orïsha, where snow leoponaires prowl and vengeful spirits wait in the waters. Yet the greatest danger may be Zélie herself as she struggles to control her powers and her growing feelings for an enemy.
My Thoughts
Children of Blood and Bone is my favorite book of the year, hands down. It is as epic as it is powerful.
On The Surface
Tomi Adeyemi creates a beautiful, brutal and immersive world of magic, prejudice and fighting back. The cultures of Children of Blood and Bone are so vivid they draw you in the story. Ms. Adeyemi brings the heart break, fear and pain of each person to life before your very eyes, as if by the same magic King Saran has sought to destroy.
Children of Blood and Bone is told from three separate points of view:
Zelie – the rebellious diviner
Amari – the rogue princess
Inan – the conflicted prince
The main story line follows the quest of Zelie, her kosidan brother Tzain, and Princess Amari to restore magic to Orisha thus shifting the balance of power.  Prince Inan and his royal guard ruthlessly chase the trio across Orisha in an attempt to stop them.
"I teach you to be warriors in the garden so you will never be gardeners in the war."
The Magic
The true magic is in the characters, who bring the story to life. They are so real in their fear, fierceness and vulnerability. As an adult, it is easy to forget this is a story of young adults rising up against their oppressors and fighting against the fear they have learned. Zelie is a force to be reckoned with, but is also a young woman who has lost everything. The world has given her every reason to feel the pull of vengeance and rage that leaves her short sighted. Yet she still fights and loves. Amari acutely feels horror and shame when faced with her own privilege and blindness to her fathers crimes. Yet she chose to hear the diviners to become an ally as well as a warrior.
The character I found more interesting, however, was Inan. When faced with the same reality as his sister Amari, he took a very different path. Instead of truly listening or seeking change, he fell back into what he knew – fear. Inan's experience over the course of Children of Blood and Bone morphed into an internal battle between duty, love and self-loathing. The parallel between how Zelie and Inan accept or reject essential parts of themselves is such a fascinating part of this story.

Children of Blood and Bone is so much more than an epic fantasy adventure. 
The real power of Children of Blood and Bone is the use of the fantasy to reflect back the social issues we are facing here in the US. The system of the stocks is structured to disenfranchise and permanently ensnares diviners solely based on their skin color and heritage of magic. This parallels our own criminal justice system. Tomi Adeyemi also takes on the complexity of oppression, prejudice, morality and colorism. Through out the course of the story, we see Amari recognize the privilege and power she holds through her light brown skin compared to the diviners with their dark brown skin and white hair. Amari has the ability to teach us all what it means to be an ally. 
Inan, on the other hand, tries at times, to fight the years of fear and prejudice but at the end of the day we witness how deep those beliefs are rooted. While Inan can recognize the atrocities experienced by the maji, he is unable to escape his fear to fully recognize his own prejudice within the short time frame of the story. Zelie, on the other hand, lives in a state of constant fear and anger. Her POV brings to light the hostility, fear and violence diviners (and people of color) face based on the color of their skin.
"They don't hate you, my child. They hate what you were meant to become."
Trauma Across Generations
I also appreciated that Tomi Adeyemi tacked a subject near and dear to my heart – the transmission of trauma across generations. There are so many ways this is experienced in Children of Blood and Bone, but the one I see often in therapy (though to a less world domination degree) is King Saran. Saran took the hate, fear and powerlessness he felt as a result of his own trauma to not only decimate and oppress an entire culture, but also passed his traumatic experiences on to his own children. Adverse childhood experiences/trauma is a serious public health issue that can lead to physical and mental health issues that impact families for generations. They are also incredibly common and are a major factor in the development of health problems, substance use, and mental health conditions. Feel free to email be if you would like more information regarding this topic… 

My Hopes
I hope that people reading Children of Blood and Bone take away more than just a beautifully written West African inspired fantasy novel. Instead, I hope people allow the sorrow, fear, rage, and hope poured into each word to draw connections, create empathy and opened mindedness to the issues this country faces. I hope people rise. 
"We are all children of blood and bone. All instruments of vengeance and virtue."
In her author's note, Tomi Adeyemi makes a powerful comparison between the slaughter of innocent diviner children at the hands of the royal guard to the killing of innocent, unarmed black children at the hands of police. And like she said, if you can feel for the characters in Children of Blood and Bone, then how can we not feel for these innocent children who have lost their lives so senselessly?
We need more stories in 2018 America like Children of Blood and Bone.
Overall
What an epic start to a fantasy trilogy. Tomi Adeyemi builds a beautiful, brutal, vivid and vibrant fantasy world with an epic story. But she also shares a story the has the ability to teach us all something deeper about ourselves and our society. All of the characters in Children of Blood and Bone are dynamic and so real. The story is both captivating and heart wrenching while still full of action.  But most powerful is beauty of the diversity Children of Blood and Bone brings to the gene with a stunning story sharing the truths of all black characters. Our would is diverse, our literature should be to. 
Read this book!
What did you think of Children of Blood and Bone?