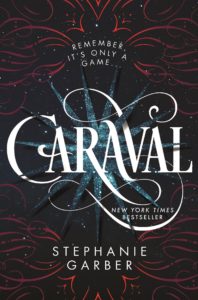 Caraval
by
Stephanie Garber
Published by
Flatiron Books
on January 31st 2017
Genres:
Fantasy
,
Young Adult
Pages:
448
Format:
eBook
,
Hardcover
Source:
Purchased
Buy on Amazon
Goodreads


Whatever you've heard about Caraval, it doesn't compare to the reality. It's more than just a game or a performance. It's the closest you'll ever find to magic in this world . . .

Scarlett has never left the tiny island where she and her beloved sister, Tella, live with their powerful, and cruel, father. Now Scarlett's father has arranged a marriage for her, and Scarlett thinks her dreams of seeing Caraval, the far-away, once-a-year performance where the audience participates in the show, are over.

But this year, Scarlett's long-dreamt of invitation finally arrives. With the help of a mysterious sailor, Tella whisks Scarlett away to the show. Only, as soon as they arrive, Tella is kidnapped by Caraval's mastermind organizer, Legend. It turns out that this season's Caraval revolves around Tella, and whoever finds her first is the winner.

Scarlett has been told that everything that happens during Caraval is only an elaborate performance. But she nevertheless becomes enmeshed in a game of love, heartbreak, and magic with the other players in the game. And whether Caraval is real or not, she must find Tella before the five nights of the game are over, a dangerous domino effect of consequences is set off, and her sister disappears forever.

Welcome, welcome to Caraval . . . beware of getting swept too far away.
My Thoughts
I am not sure I have ever encountered the level annoyance I experienced while reading Caraval. Scarlett drove me crazy with her naivety. And the constant arguing for no apparent reason and against all common sense. Who tries to row a sinking boat?!? Scarlett does. If I were Julian, I would have left her ten times over, in the early chapters.
Personally, I also find it extremely frustrating when part of the story line is one character making decisions for another out of love (or fill in the blank excuse) without ever considering what the other person might what. This was Scarlett. She thought so little of her sister's ability to make decisions in her own life that she just decide she couldn't.
At times, the writing felt a bit more like telling instead of showing the experiences. There was also a bit of repetitiveness that was distracting. Sometimes I couldn't help but to roll my eyes every time 'periwinkle' (yes periwinkle… lots of periwinkle) or the blasted wedding was mentioned. Other times, I just wanted to throw the book across the room and never finish. Ever. Done.
But wait…
Somewhere around the midpoint something changed and I was swept away in the magic of Caraval. I have no idea how or when it happened, but I started… rooting for Scarlett. SCARLETT?!?! I swear Legend's magic must have seeped out of the book. I could not put it down. Scarlett's growth over the course of the book w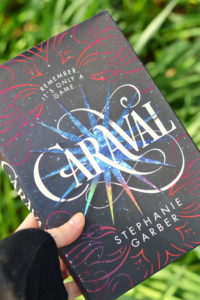 as subtle, slowing growing into a bit of a backbone. The Scarlett who finally had the strength to throw off the chains of her fear, was a Scarlett I enjoyed.
Finishing Caraval, I was a bit stunned. I haven't read a book that started with so much irritation and ended with being charmed. Excited to dive into the next book, even. There are so many things I still need to know! Like who is Legend?! Talk about growth. Kudos Stephanie Garber.
Overall
Caraval was a bit of a wild ride. A wild ride that I could not get out of my head. There is magic in this book that makes it worth giving it a read. I think the concept of Caraval is interesting and look forward to where Stephanie Garber might take this series.
Recommended for fans of: magic, deception, colorful prose
What books have you almost not finished and turned out enjoying? Or what makes you not finish a book?