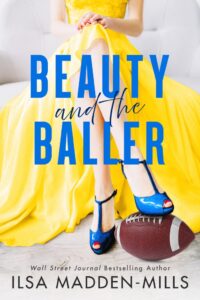 Beauty and the Baller
by
Ilsa Madden-Mills
Published by
Amazon Publishing
on March 1, 2022
Genres:
Fiction / Romance / Contemporary
,
Fiction / Romance / New Adult
,
Fiction / Romance / Romantic Comedy
Pages:
316
Format:
ARC
Source:
Social Butterfly PR
Buy on Amazon
Goodreads
An NFL quarterback turned small-town coach gets sacked by a Texas beauty queen in this swoony, passionate romance from Wall Street Journal bestselling author Ilsa Madden-Mills.

Gorgeous, talented, and brilliant, NFL quarterback Ronan Smith has the world in his hands. But after losing his career and his fiancée in a car accident, he falls into a pit of grief and bad choices. When a mysterious girl shows up to his party, he feels drawn to her and makes her his...for one night.

Former beauty queen Nova Morgan is on a mission. Scantily clad as a princess from a galaxy far, far away, she sneaks into a high-profile party to capture the attention of her favorite quarterback. But her hopes crash after an awful one-night stand.

Fast-forward two years. Broke and desperate, Nova returns home to Blue Belle, Texas, where, by a cosmic twist of fate, her broody neighbor is none other than Ronan, the shiny new football coach everyone adores. But he has no idea who she is.

The booster club keeps shoving women at Ronan to keep him in town. His solution? He proposes fake dating to Nova. But things heat up for real under these Friday-night lights when he realizes she's the one who slipped away.

Has this jaded beauty found her forever baller, or will his past keep them apart?
I received this book for free from Social Butterfly PR in exchange for an honest review. This does not affect my opinion of the book or the content of my review.
My Thoughts
Beauty and the Baller is the romantic shenanigans of a Texas beauty queen meets ex-NFL super star in a small football town. But more than that, it is a story of grief, healing, family, and second chances. Nova was such a pleasant surprise and so much more than what I expected. We first meet her dressed as Leia, yes that Leia, when she crashes a New York Pythons party. Skip ahead a few years from that first meeting and Nova is back the hometown she never wanted to return to, after the loss of her mother and trying to fulfill a promise to take care of her little sister. Enter a whole lot of cute tropes from fake-dating to forced proximity when Nova comes face-to-face with her unforgettable one-night stand, Ronan, the superstar NFL quarterback & Star Wars geek she attempted to woo as Leia.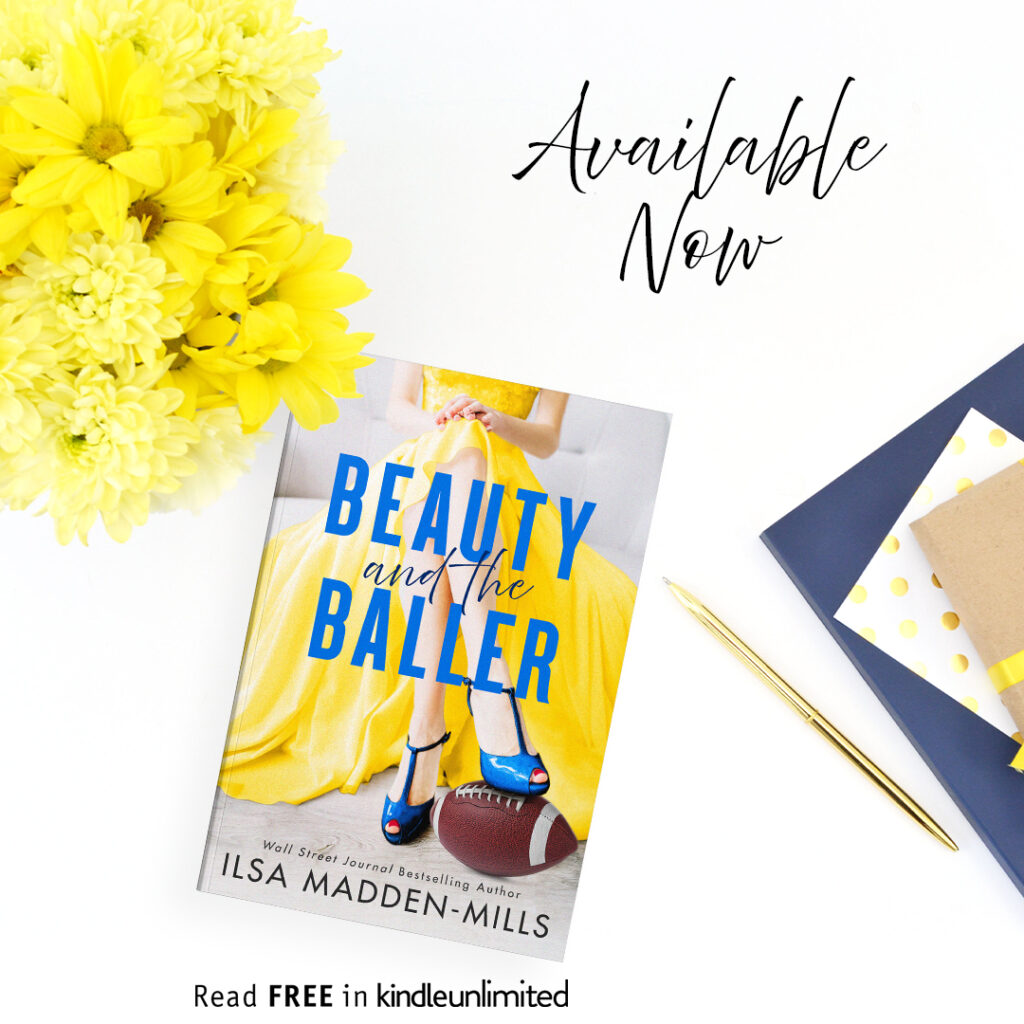 Nova and Ronan are drawn to each other from the very beginning, and that chemistry absolutely leaps off the page. However, what I loved most was their banter while walking side-by-side (sometimes unwillingly) through their own individual grief and healing. Beauty and the Baller had a lot of funny moments and high school shenanigans where sometimes the adults were as immature as the teens. The side characters where also a lot of fun. A goat may or may not have been stolen. There is a lot going on here.
"Beauty is how we go on, the life we create around us. Living a life that's meaningful."

Nova, Chapter 9
However…
Beauty and the Baller was not without some issues. There was one moment in particular that really bothered me. Not a plot spoiler. Here we go: Our main characters are caught in an awkward situation mid sexy competition which left Ronan wearing a bra… fast forward to the assistant football coach trying to show "Texans are more open minded than those New York people think" by attempting to normalize the bra wearing (I think) through sharing the fact he has a cousin who "wears heels and dresses" and changed their name to Mandy. "No one turned a hair in my family." This conversation seems to be implying that he has a trans cousin and the family was cool… except that the speaker called the person his "male cousin", used he/him/his pronouns, and dead-named the them all while trying to show his "open-mindedness." WTF WAS THE AUTHOR TRYING TO SAY HERE?!? This whole exchange wasn't necessary to the plot and is frankly harmful.
This was followed later by those all too common "like a girl" quips from the male athletes which further left a sour taste. I get these conversation elements are realistic but should we continue to perpetuate the belief that something "girlie" is bad, that crying is inherently female and "crying like a girl" makes you less then?
Let us also not forget that books exist in the time they were written and published. And for this book, that time includes the state of Texas passing bills that are detrimental to women's reproductive rights and health as well as bills that are blatantly anti-LGBTQA2+. So this weighted heavy on my mind.
We can do better.
Overall
Overall, Beauty and the Baller had some funny, heartfelt and tender moments paired with chemistry and steam. There was a fun cast of characters from our main couple to the side characters, both adults and teens alike. Despite my enjoyment of the story as a whole, I also cannot ignore the massive need for a sensitivity reader. The issues above absolutely left an impression on my overall experience of this book. Without these problematic moments, Beauty and the Baller is probably a 3.5 to 4 star read for me but with them, no rating.
Thank you Social Butterfly PR for the opportunity to read and review this book early.
Note: All quotes are from an uncorrected proof and may not be in the final edition. *fingers crossed*
About Ilsa Madden-Mills

Wall Street Journal, New York Times and USA Today best-selling author Ilsa Madden-Mills is best known for her angsty new adult romances and romantic comedies.
Eight of her eleven novels have placed in the Amazon Top 10 Best-seller List: Dirty English #1; Fake Fiancée and I Dare You #2; I Bet You, Filthy English, and Very Bad Things #6; Boyfriend Bargain #8; The Last Guy, her collaboration with Tia Louise, #4.
A former high school English teacher, she adores all things Pride and Prejudice, and of course, Mr. Darcy is her ultimate hero.
She's addicted to frothy coffee beverages, cheesy magnets, and any book featuring unicorns and sword-wielding females. Feel free to stalk her online.
Connect with Ilsa
Amazon
Instagram
Stay up to day with Ilsa by joining her mailing list
Goodreads
Bookbub
Book+Main
Website
Join her Unicorn Girls Group on FB, the best way to keep up
Sign up for phone alert for book releases (max of 4) Text ROMANCE to 21000
*Text message rates apply*