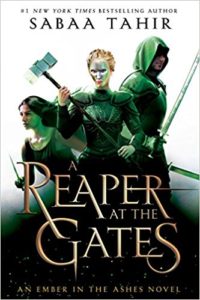 A Reaper at the Gates
by
Sabaa Tahir
Published by
Penguin
on June 12th 2018
Genres:
Young Adult Fiction
,
Fantasy
,
General
,
Politics & Government
,
Romance
Pages:
480
Format:
Audiobook
,
eBook
,
Hardcover
Source:
Purchased
Buy on Amazon
Goodreads

Beyond the Martial Empire and within it, the threat of war looms ever larger.

Helene Aquilla, the Blood Shrike, is desperate to protect her sister's life and the lives of everyone in the Empire. But she knows that danger lurks on all sides: Emperor Marcus, haunted by his past, grows increasingly unstable and violent, while Keris Veturia, the ruthless Commandant, capitalizes on the Emperor's volatility to grow her own power--regardless of the carnage she leaves in her path.

Far to the east, Laia of Serra knows the fate of the world lies not in the machinations of the Martial court, but in stopping the Nightbringer. But in the hunt to bring him down, Laia faces unexpected threats from those she hoped would help her, and is drawn into a battle she never thought she'd have to fight.

And in the land between the living and the dead, Elias Veturius has given up his freedom to serve as Soul Catcher. But in doing so, he has vowed himself to an ancient power that demands his complete surrender--even if that means abandoning the woman he loves.
My Thoughts
Holy $%&*$. Why Sabaa? Why? I am not okay. Will not be okay until I have book four in my desperate, shaking hands… and friends… it is still in the brainstorming stages. Sigh.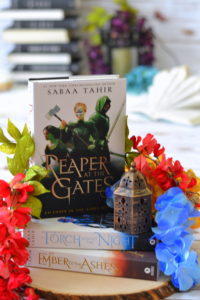 While I am going to do my best to keep this review spoiler free for Reaper, this may not be spoiler free for Ember and Torch. You are officially warned…
Bloody Brutal and Ruthless
Have you ever loved having your heart broken? Yea, me neither… then I read Reaper. I loved this book. Sabaa is an evil author in the best possible way.
She made me a willing victim of the ugly cry, created related villains and turned a 'meh' character for me in Ember to one I loved in Reaper. Helene's arc was so engaging, brutal, gut wrenching and absolutely masterful. All hail Queen Sabaa.
I did find myself missing Elias in this edition. Which lead to immersing myself in the few sweet moments between Laia and Elias, followed by my heart breaking when they were taken away. Our duo spends most this book on their own, separate journeys, yet you feel their connection and yearning for one another across the miles. Be still my hopeless romantic heart… I am excited and terrified to see what is in store for these two.
The Humanization of the Villain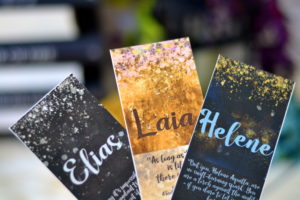 Sabaa also accomplished two incredible feats in Reaper. With the addition of the fourth perspective, she was able to humanize the villain. By being allowed to get in their head and learning some backstory, you start to understand how they became the person the did. They are ruthless, brutal, terrible and yet they loved and lost just like our heroes. It is murky and grey… and I'm so here for it.
Finally, I ended Reaper with a sense of hope. Crazy right? Delicately woven in all of the face of all the obstacles, losses and heart break our characters face, was this sense of hope that transcended the darkness. It was beautiful.
Overall
A Reaper at the Gates was an absolutely thrilling, breath-taking and gut wrenching ride. I could not put this book down and found myself turning to the audiobook to read just a little bit more during the day. The audio is wonderful, by the way. If you have not read this series, please do yourself a favor and pick it up!
Have you read this series? What did you think about Reaper?