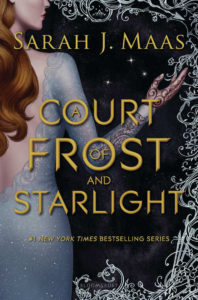 A Court of Frost and Starlight (A Court of Thorns and Roses, #3.1)
by
Sarah J. Maas
Published by
Bloomsbury YA
on May 1st 2018
Genres:
Fantasy
,
Young Adult
Pages:
272
Format:
eBook
,
Hardcover
Source:
Purchased
Buy on Amazon
Goodreads

Feyre, Rhys, and their close-knit circle of friends are still busy rebuilding the Night Court and the vastly-changed world beyond. But Winter Solstice is finally near, and with it, a hard-earned reprieve.

Yet even the festive atmosphere can't keep the shadows of the past from looming. As Feyre navigates her first Winter Solstice as High Lady, she finds that those dearest to her have more wounds than she anticipated--scars that will have far-reaching impact on the future of their Court.
My Thoughts
So the other day I realized I had not even attempted to write a review of ACOFAS. Not because I was mentally crafting a brilliant review. I just simply forgot…
Yes… I just FORGOT a story by Queen Maas. And I should say that 'story' is used loosely here. This is a little painful to write as a huge fan of this series and SJM in general, but WTF did I read?

Basically The Longest Prologue Ever
In all honesty, I did not go into ACOFAS with a whole lot of expectations, despite the four copies and two special edition bookish boxes I purchased related to this damn book. It's a novella… I wasn't anticipating A Court of Mist and Fury level epicness but I was absolutely expecting a plot. I'm not exaggerating when I say the plot was pretty nonexistent.
I know SJM has said that the purpose of ACOFAS was to provide an end to Feyre and Rhysand's arc, while acting as a bridge to the next book. Got it. But this added NOTHING to the larger story that couldn't have been inferred moving from ACOWAR to the next book…
Shall I demonstrate? We witnessed:
Feyre + Rhysand smut (which got old quickly)
Nesta being wretched and isolated by said wretchedness
No real change with Elain, Az, or Lucien
Cassian pining after Nesta
Mor being sent off to do third in command things
Amren discovering bowl movements
Oh and the terribleness of Fae periods
Nothing that couldn't have been caught up to in the first chapter, am I right? And back to terrible things…Nesta is so wretched in this book that it almost turns me off from the next one. Almost… I still love this world and the inner circle enough to not give up hope. And who knows, maybe Queen Maas is truly crafting some epic things to come. A girl can dream.

What I Did Enjoy
ACOFAS really wasn't all bad. I enjoyed coming back to some of my favorite characters and seeing little glimpses of the former magic between the inner circle members. I also appreciated that there was some focus on the healing after the trauma of war, particularly with Feyre using art as a way of healing herself and the community.
There was some criticism regarding the whole Feysand baby, but I actually understood that aspect of the story more than warriors having yearly (secret) snowball fights. Yup, you read that right. Snowball fights. Fae have trouble conceiving. It might take decades. As a person who was on the fence about having kids, then learned I would have trouble conceiving (if I could at all), I can get the 'lets try now' mentality.
They also survived war. When you fear that you and/or your loved ones won't make it home alive, you tend to stop waiting for the 'right time' and just take the chance. Tomorrow is not guaranteed. This is a lesson I've learned as a military spouse. Of course there is the fear my husband won't make it home from a deployment, which absolutely shifted my view of life. But also, I may not live in the same place, have the same friends, or the same opportunities from one month to the next. So we live for today.
Overall
Wow. This turned out to be longer than I expected. Overall, this is a book that ACOTAR fans will either love or hate. I personally found ACOFAS unnecessary, but am truly hoping that Queen Maas proves me wrong by having set up some masterful arc for the next books.
And the rating… I want to say somewhere between a 2 and 3. I love the world and the characters but the story wasn't very memorable.
Have you read ACOFAS? What did you think?