Here we are again with another list of upcoming releases that I cannot wait to get my hands on. While one of my goals this year is to read significantly more adult SFF, I read some pretty fantastic YA series starters last year with sequels out this year. So here are the 18 YA SFF books that are on my 2021 TBR.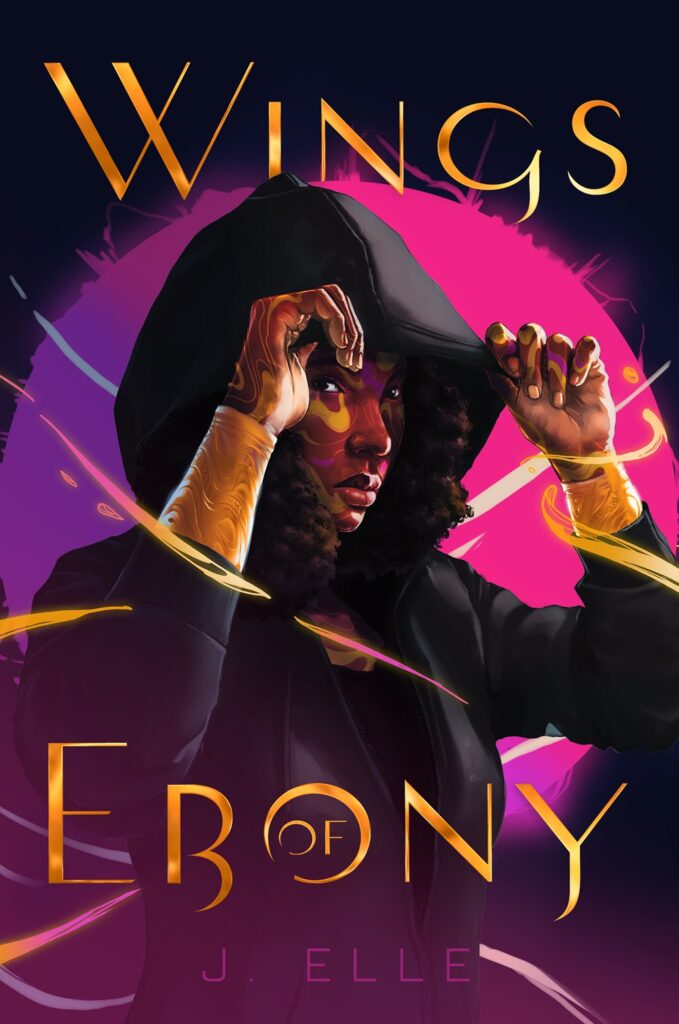 Wings of Ebony
by J. Elle
Release Date: January 26, 2021
Series: Wings of Ebony #1
Synopsis
"Make a way out of no way" is just the way of life for Rue. But when her mother is shot dead on her doorstep, life for her and her younger sister changes forever. Rue's taken from her neighborhood by the father she never knew, forced to leave her little sister behind, and whisked away to Ghizon—a hidden island of magic wielders.
Rue is the only half-god, half-human there, where leaders protect their magical powers at all costs and thrive on human suffering. Miserable and desperate to see her sister on the anniversary of their mother's death, Rue breaks Ghizon's sacred Do Not Leave Law and returns to Houston, only to discover that Black kids are being forced into crime and violence. And her sister, Tasha, is in danger of falling sway to the very forces that claimed their mother's life.
Worse still, evidence mounts that the evil plaguing East Row is the same one that lurks in Ghizon—an evil that will stop at nothing until it has stolen everything from her and everyone she loves. Rue must embrace her true identity and wield the full magnitude of her ancestors' power to save her neighborhood before the gods burn it to the ground.
Half-god / Half-human MC + a Hunger Games comparison?!?
I volunteer as tribute!
Add to your Goodreads
Preorder here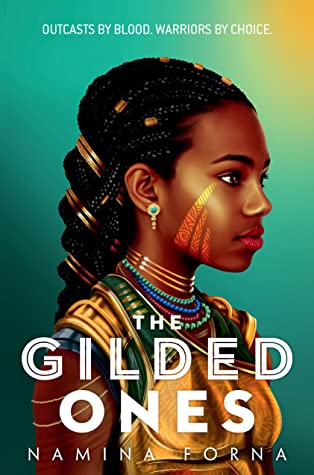 The Gilded Ones
by Namina Forna
Release Date: February 9, 2021
Series: Deathless #1
Synopsis
Sixteen-year-old Deka lives in fear and anticipation of the blood ceremony that will determine whether she will become a member of her village. Already different from everyone else because of her unnatural intuition, Deka prays for red blood so she can finally feel like she belongs.
But on the day of the ceremony, her blood runs gold, the color of impurity–and Deka knows she will face a consequence worse than death.
Then a mysterious woman comes to her with a choice: stay in the village and submit to her fate, or leave to fight for the emperor in an army of girls just like her. They are called alaki–near-immortals with rare gifts. And they are the only ones who can stop the empire's greatest threat.
Knowing the dangers that lie ahead yet yearning for acceptance, Deka decides to leave the only life she's ever known. But as she journeys to the capital to train for the biggest battle of her life, she will discover that the great walled city holds many surprises. Nothing and no one are quite what they seem to be–not even Deka herself.
Blood Ceremonies, magic, monsters, and horror elements?! YES YES YES.
Add to your Goodreads
Preorder here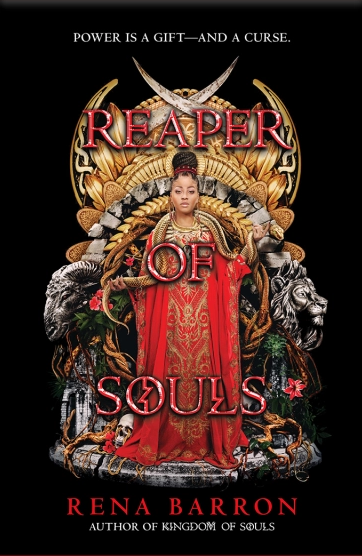 Reaper of Souls
by Rena Barron
Release Date: February 18, 2021
Series: Kingdom of Souls #2
Synopsis
After so many years yearning for the gift of magic, Arrah has the one thing she's always wanted—at a terrible price. Now the last surviving witchdoctor, she's been left to pick up the shattered pieces of a family that betrayed her, a kingdom in shambles, and long-buried secrets about who she is.
Desperate not to repeat her mother's mistakes, Arrah must return to the tribal lands to search for help from the remnants of her parents' people. But the Demon King's shadow looms closer than she thinks. And as Arrah struggles to unravel her connection to him, defeating him begins to seem more and more impossible—if it's something she can bring herself to do at all.
Set in a richly imagined world inspired by spine-tingling tales of voodoo and folk magic, Kingdom of Souls was lauded as "masterful" by School Library Journal in a starred review. This explosively epic sequel will have readers racing to the can't-miss conclusion.
Kingdom of Souls was dark, twisty and complex with incredible mythology woven throughout which made for a captivating read. Needless to say, I am really excited to see where the story goes in Reaper.

If you enjoyed Children of Blood and Bone, you should check this series out!
Add to your Goodreads
Preorder here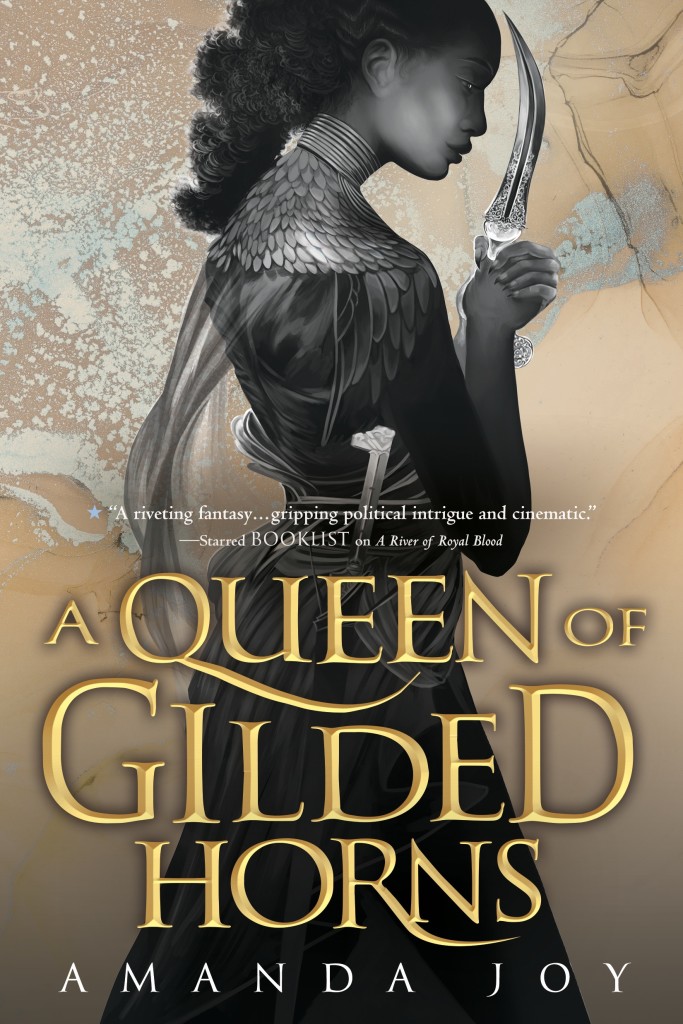 A Queen of Gilded Horns
by Amanda Joy
Release Date: March 16, 2021
Series: A River of Royal Blood Duology
Synopsis
In this sequel to A River of Royal Blood, Eva and Isa must find a way to work together if they want to save their queendom in the thrilling conclusion to this royal fantasy duology.
Now on the run, Eva is desperate for answers about her transformation and her true heritage. Along with Aketo, a small contingent of guards, and the sister she could not kill, Eva flees Ternain in hopes of finding friends and allies to the north–not to mention Baccha–to help her decide what to do next. Princess Isa is a difficult, unremorseful captive, and Eva knows better than to trust her sister, but she wants to. Despite their history, Eva is convinced that to survive the growing unrest in the queendom, she and her sister must make peace. Since the Entwining ceremony, Eva's and Isa's lives have been bonded, and each can only die by the other's hand. This perhaps provides an opening for a truce and a more hopeful future for both the sisters and the queendom, if only Isa would see reason and give up the battle for the throne.
With the two princesses on the run, the Queendom of Myre is on the brink of a revolution. And without Baccha to guide and train her magick, Eva must find a way not only to survive her own metamorphosis, but to unite all the people of Myre, including her sister, by finally taking the Ivory Throne.
A River of Royal Blood is a North African inspired fantasy that is magical, dark and captivating. Plus you have the ultimate sibling rivalry. I fell in love with book one and cannot wait to get my hands on the finale!

Also these new covers are FIRE!
Add to your Goodreads
Preorder here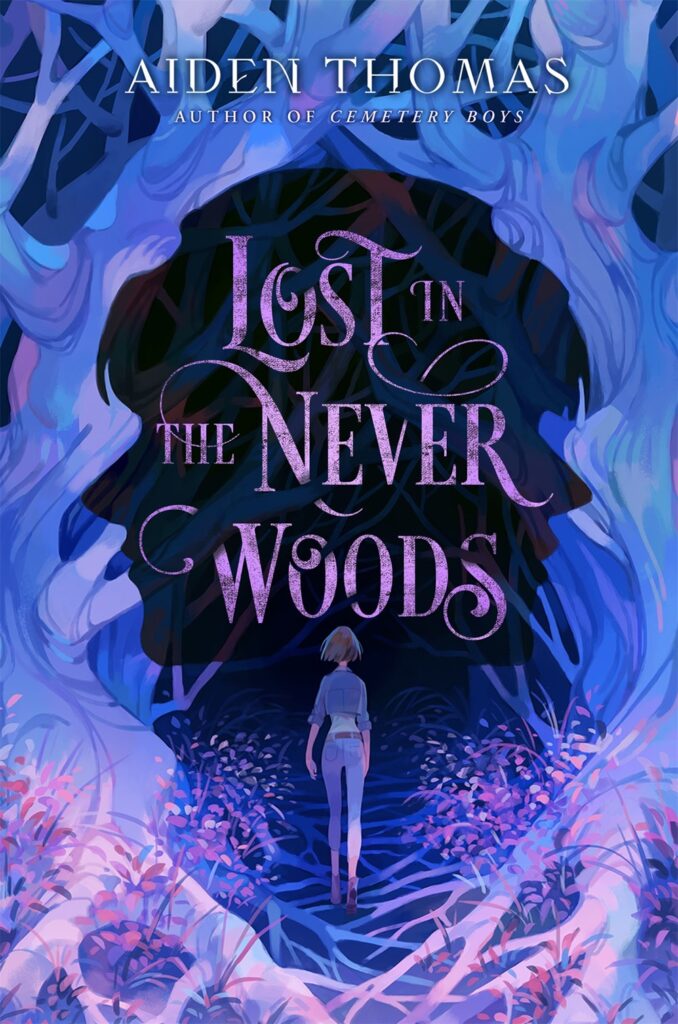 Lost in the Never Woods
by Aiden Thomas
Release Date: March 23, 2021
Series: Standalone
Synopsis
When children go missing, people want answers. When children go missing in the small coastal town of Astoria, people look to Wendy for answers.
It's been five years since Wendy and her two brothers went missing in the woods, but when the town's children start to disappear, the questions surrounding her brothers' mysterious circumstances are brought back into light. Attempting to flee her past, Wendy almost runs over an unconscious boy lying in the middle of the road, and gets pulled into the mystery haunting the town.
Peter, a boy she thought lived only in her stories, claims that if they don't do something, the missing children will meet the same fate as her brothers. In order to find them and rescue the missing kids, Wendy must confront what's waiting for her in the woods.
DARK REIMAGINING OF PETER PAN!!!
That is all.
Wait! If you haven't read the author's first book, Cemetery Boys, I definitely recommend it.
Now that is all.
Add to your Goodreads
Preorder here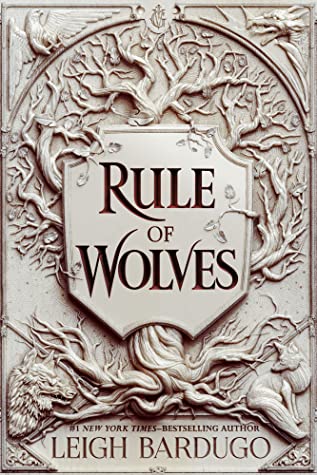 Rule of Wolves
by Leigh Bardugo
Release Date: March 30, 2021
Series: King of Scars Duology / Grishaverse
Synopsis
The Demon King. As Fjerda's massive army prepares to invade, Nikolai Lantsov will summon every bit of his ingenuity and charm—and even the monster within—to win this fight. But a dark threat looms that cannot be defeated by a young king's gift for the impossible.
The Stormwitch. Zoya Nazyalensky has lost too much to war. She saw her mentor die and her worst enemy resurrected, and she refuses to bury another friend. Now duty demands she embrace her powers to become the weapon her country needs. No matter the cost.
The Queen of Mourning. Deep undercover, Nina Zenik risks discovery and death as she wages war on Fjerda from inside its capital. But her desire for revenge may cost her country its chance at freedom and Nina the chance to heal her grieving heart.
King. General. Spy. Together they must find a way to forge a future in the darkness. Or watch a nation fall.
I confess, I wasn't completely blown away by King of Scars. However, I absolutely love the worlds and characters Leigh Bardugo crafts so I keep coming back for more.
Add to your Goodreads
Preorder here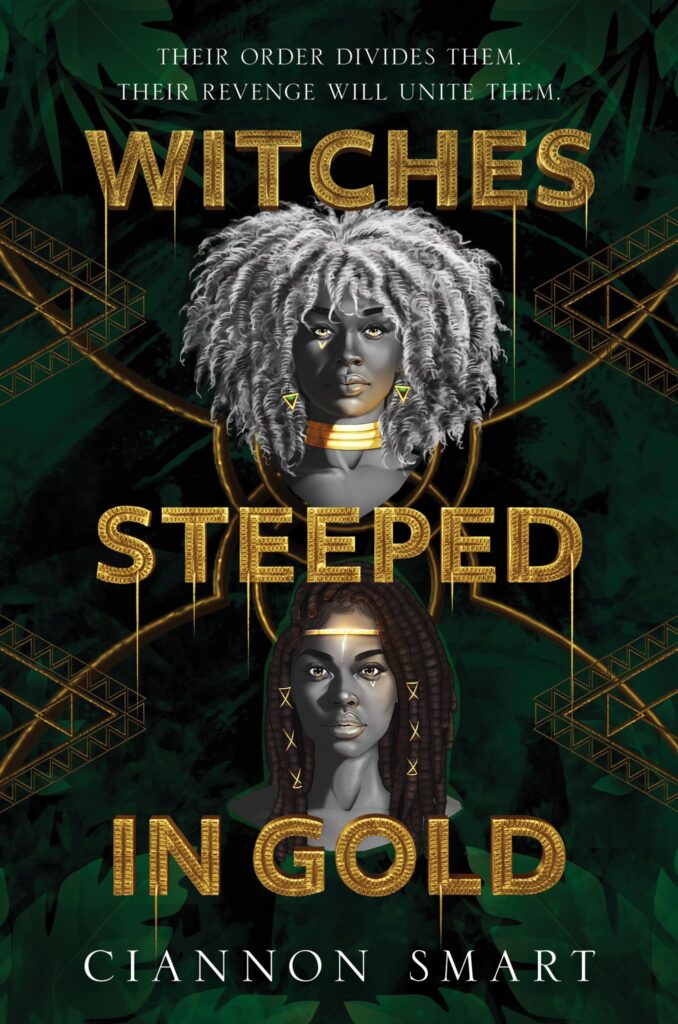 Witches Steeped in Gold
by Ciannon Smart
Release Date: April 20, 2021
Series: Witches Steeped in Gold #1
Synopsis
Divided by their castes. United by their vengeance.
Iraya has spent her life in a cell, but every day brings her closer to freedom—and vengeance.
Jazmyne is the queen's daughter, but unlike her sister before her, she has no intention of dying to strengthen her mother's power.
Sworn enemies, these two witches enter a precarious alliance to take down a mutual threat. But revenge is a bloody pursuit, and nothing is certain—except the lengths they will go to win this game.
Deadly, fierce, magnetically addictive: this Jamaican-inspired fantasy debut is a thrilling journey where dangerous magic reigns supreme and betrayal lurks beneath every word.
I have been eyeing this one for MONTHS. You had me at "Jamaican-inspired fantasy" and witches.
Add to your Goodreads
Preorder here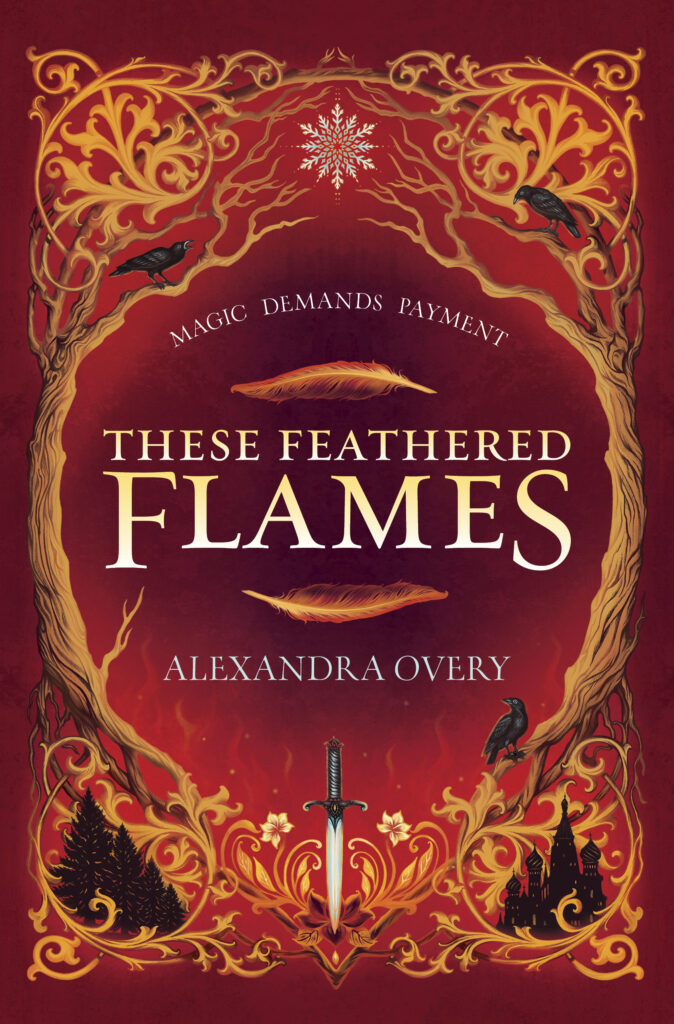 These Feathered Flames
by Alexandra Overy
Release Date: April 20, 2021
Series: These Feathered Flames #1
Synopsis
When twin heirs are born in Tourin, their fates are decided at a young age. While Izaveta remained at court to learn the skills she'd need as the future queen, Asya was taken away to train with her aunt, the mysterious Firebird, who ensured magic remained balanced in the realm.
But before Asya's training is completed, the ancient power blooms inside her, which can mean only one thing: the queen is dead, and a new ruler must be crowned.
As the princesses come to understand everything their roles entail, they'll discover who they can trust, who they can love—and who killed their mother.
This is pitched as a Queer own voices retelling of the Russian folktale, "The Firebird." Do you need more to immediately add this to your TBR?! I definitely did not.
Add to your Goodreads
Preorder here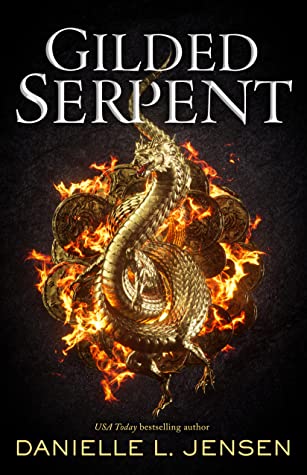 Gilded Serpent
by Danielle L. Jensen
Release Date: April 27, 2021
Series: Dark Shores #3
Synopsis
From bestselling author Danielle L. Jensen comes a thrilling new novel in the Dark Shores world, a series that Sarah J. Maas called "everything I look for in a fantasy novel."
THEIR BATTLES ENDED IN VICTORY
Lydia returns to Mudaire to enter training at the healing temple. But instead of fighting to save lives, she's convinced she is doing more harm than good. She delves into the history of the gods only to discover a truth that will change her life forever.
His birthright as commander of the Royal Army is finally in his grasp, but Killian feels anything but victorious. Burdened by his past, he embraces the darker side of his mark—and in doing so, risks starting a war.
BUT THE WAR HAS ONLY JUST BEGUN
Having defeated the tyrant Urcon, Marcus struggles to form a lasting alliance with the Arinoquians. But he is plagued by the knowledge that there is a traitor among his friends, and it could cost him everything that he's fought for.
Torn between her growing allegiance to the Thirty-Seventh legion and her need to liberate her people, Teriana finds herself mired in a web of secrets. She embarks upon a path that will either save everyone she loves—or put them all in their graves.
Readers may read either Dark Shores or Dark Skies first!
Suggested series reading order:
1. Dark Skies or Dark Shores
2. Dark Shores or Dark Skies
3. Gilded Serpent
I absolutely love the Dark Shores series and really Jensen's storytelling in general. All our MCs from the first two books finally come together and I cannot wait to see what shenanigans they get into. I actually have an ARC of this one so I will hopefully get a review out soon. Also MARCUS! I need all the Marcus.
Add to your Goodreads
Preorder here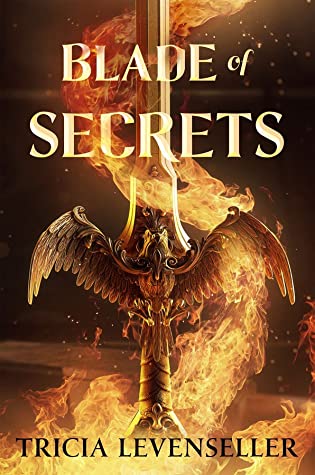 Blade of Secrets
by Tricia Levenseller
Release Date: May 4, 2021
Series: Bladesmith #1
Synopsis
A teenage blacksmith with social anxiety accepts a commission from the wrong person and is forced to go on the run to protect the world from the most powerful magical sword she's ever made.
Eighteen-year-old Ziva prefers metal to people. She spends her days tucked away in her forge, safe from society and the anxiety it causes her, using her magical gift to craft unique weapons imbued with power.
Then Ziva receives a commission from a powerful warlord, and the result is a sword capable of stealing its victims' secrets. A sword that can cut far deeper than the length of its blade. A sword with the strength to topple kingdoms. When Ziva learns of the warlord's intentions to use the weapon to enslave all the world under her rule, she takes her sister and flees.
Joined by a distractingly handsome mercenary and a young scholar with extensive knowledge of the world's known magics, Ziva and her sister set out on a quest to keep the sword safe until they can find a worthy wielder or a way to destroy it entirely.
I loved The Shadows Between Us and really enjoyed Warrior of the Wild so I am 100% down for an adventure that includes magical weapons and blacksmithing!
Add to your Goodreads
Preorder here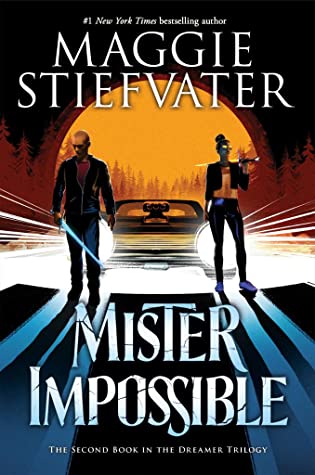 Mister Impossible
by Maggie Stiefvater
Release Date: May 18, 2021
Series: Dreamer Trilogy #2
Synopsis
The stakes have never been higher as it seems like either the end of the world or the end of dreamers approaches.
Do the dreamers need the ley lines to save the world . . . or will their actions end up dooming the world? As Ronan, Hennessy, and Bryde try to make dreamers more powerful, the Moderators are closing in, sure that this power will bring about disaster. In the remarkable second book of The Dreamer Trilogy, Maggie Stiefvater pushes her characters to their limits – and shows what happens to them and others when they start to break.
I love The Raven Cycle. I love the Brothers Lynch. I even love the murder crabs. Here is so hoping we see more bizarre dream creatures while I continue to be perfectly fucking civil waiting for this book!
Add to your Goodreads
Preorder here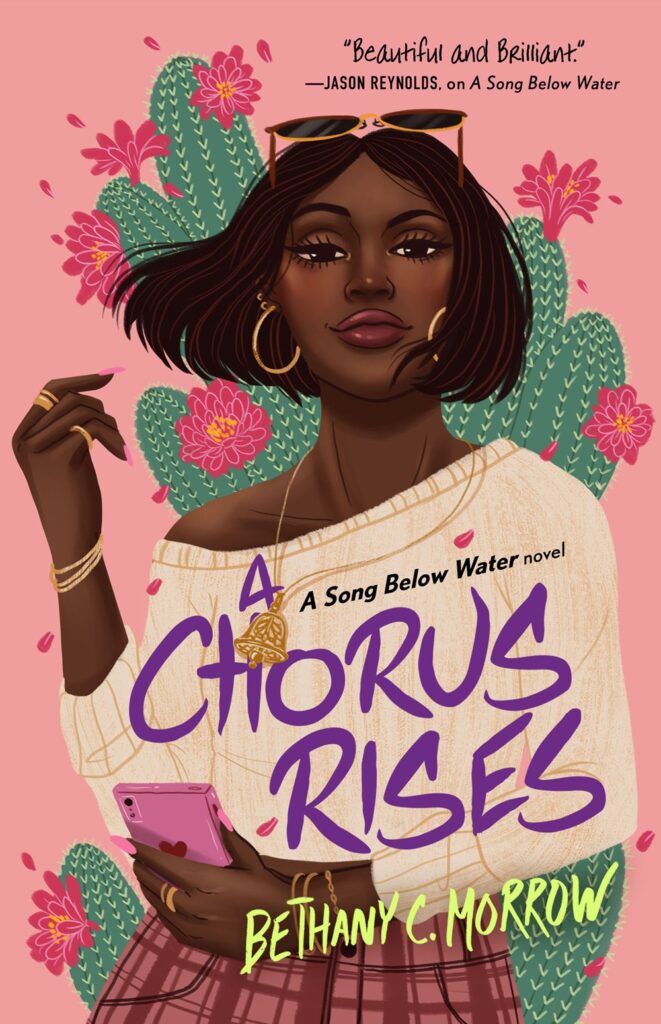 A Chorus Rises
by Bethany C. Morrow
Release Date: June 1, 2021
Series: A Song Below Water #2
Synopsis
The Hate U Give meets Shadowshaper in Bethany C. Morrow's A Chorus Rises, a brilliant contemporary fantasy set in the world of A Song Below Water.
Teen influencer Naema Bradshaw has it all: she's famous, privileged, has "the good hair"— and she's an Eloko, a person who's gifted with a song that woos anyone who hears it. Everyone loves her — well, until she's cast as the awful person who exposed Tavia's secret siren powers.
Now, she's being dragged by the media. No one understands her side: not her boyfriend, not her friends, nor her Eloko community. But Naema knows the truth and is determined to build herself back up — no matter what.
When a new, flourishing segment of Naema's online supporters start targeting black girls, however, Naema must discover the true purpose of her magical voice.
A Song Below Water is one of those books that settled in my soul. It was such a masterful blend of beautiful whimsy and raw, brutal reality. A Chorus Rises is one of those books I will be reading the moment it enters the world. Do not sleep on Bethany C. Marrow.
Add to your Goodreads
Preorder here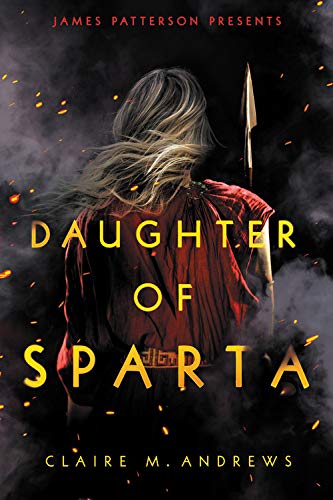 Daughter of Sparta
by Claire M. Andrews
Release Date: June 8, 2021
Series: Standalone
Synopsis
Seventeen-year-old Daphne has spent her entire life honing her body and mind into that of a warrior, hoping to be accepted by the unyielding people of ancient Sparta. But an unexpected encounter with the goddess Artemis—who holds Daphne's brother's fate in her hands—upends the life she's worked so hard to build. Nine mysterious items have been stolen from Mount Olympus and if Daphne cannot find them, the gods' waning powers will fade away, the mortal world will descend into chaos, and her brother's life will be forfeit.
Guided by Artemis's twin-the handsome and entirely-too-self-assured god Apollo-Daphne's journey will take her from the labyrinth of the Minotaur to the riddle-spinning Sphinx of Thebes, team her up with mythological legends such as Theseus and Hippolyta of the Amazons, and pit her against the gods themselves.
A reinterpretation of the classic Greek myth of Daphne and Apollo, Daughter of Sparta by debut author Claire Andrews turns the traditionally male-dominated mythology we know into a heart-pounding and empowering female-led adventure
I have been obsessed with mythology since I was a kid. Specifically Greek and Egyptian mythology. So I am here for a reinterpretation of Daphne and Apollo.
Add to your Goodreads
Preorder here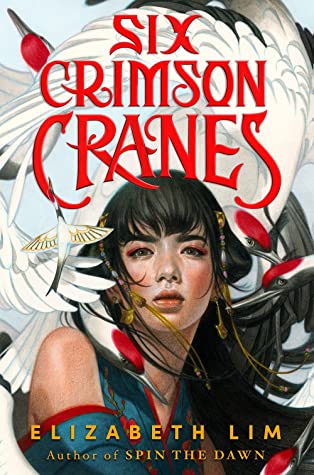 Six Crimson Cranes
by Elizabeth Lim
Release Date: July 6, 2021
Series: Six Crimson Cranes #1
Synopsis
Shiori, the only princess of Kiata, has a secret. Forbidden magic runs through her veins. Normally she conceals it well, but on the morning of her betrothal ceremony, Shiori loses control. At first, her mistake seems like a stroke of luck, forestalling the wedding she never wanted, but it also catches the attention of Raikama, her stepmother.
Raikama has dark magic of her own, and she banishes the young princess, turning her brothers into cranes, and warning Shiori that she must speak of it to no one: for with every word that escapes her lips, one of her brothers will die.
Peniless, voiceless, and alone, Shiori searches for her brothers, and, on her journey, uncovers a conspiracy to overtake the throne—a conspiracy more twisted and deceitful, more cunning and complex, than even Raikama's betrayal. Only Shiori can set the kingdom to rights, but to do so she must place her trust in the very boy she fought so hard not to marry. And she must embrace the magic she's been taught all her life to contain—no matter what it costs her
Lim is such a beautiful storyteller. I really enjoyed The Blood of the Stars duology so I anticipate being just as captivated by this one.
Add to your Goodreads
Preorder here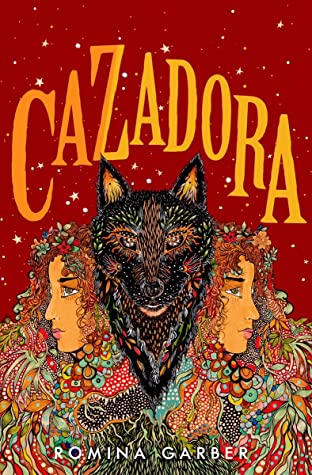 Cazadora
by Romina Garber
Release Date: August 17, 2021
Series: Wolves of No World #2
Synopsis
In Cazadora, the follow-up to Lobizona, Romina Garber continues to weave Argentine folklore and real-world issues into a haunting, fantastical, and romantic story that will reunite readers with Manu and her friends as they continue to fight for a better future.
Lobizona was one of those stories that was pure magic without being overtly magical. It was a bit of a slow burn but I also did not want to stop reading. The folklore added an interesting element to the story and I cannot wait to get more in Cazadora!
Add to your Goodreads
Preorder here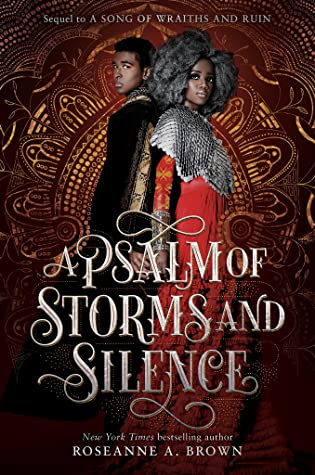 A Psalm of Storms and Silence
by Roseanne A. Brown
Release Date: August 21, 2021
Series: A Song of Wraiths and Ruin Duology
Synopsis
Karina lost everything after a violent coup left her without her kingdom or her throne. Now the most wanted person in Sonande, her only hope of reclaiming what is rightfully hers lies in a divine power hidden in the long-lost city of her ancestors.

Meanwhile, the resurrection of Karina's sister has spiraled the world into chaos, with disaster after disaster threatening the hard-won peace Malik has found as Farid's apprentice. When they discover that Karina herself is the key to restoring balance, Malik must use his magic to lure her back to their side. But how do you regain the trust of someone you once tried to kill?

As the fabric holding Sonande together begins to tear, Malik and Karina once again find themselves torn between their duties and their desires. And when the fate of everything hangs on a single, horrifying choice, they each must decide what they value most—a power that could transform the world, or a love that could transform their lives.
I absolutely devoured A Song of Wraiths of Ruin last year. The vibrant, magical would is inspired by West African folklore. Our MCs hold their own on the page and the ending left me wishing I could time travel. Highly recommend book 1 and cannot wait to see how it all ends.
Add to your Goodreads
Preorder here
Books Without Release Dates
Nowhere by Brandon Sanderson
First off, its Sanderson so I need it like air. Also I miss MBot, doomslug and Skyward Flight dearly. Fingers crossed it really does arrive Spring 2021.
Add to Goodreads
Untitled Legendborn #2 by Tracy Deonn
I don't need a title, cover or anything else to want to pre-order this baby. This book MUST exist in the world soon. Legendborn was one of my FAVORITE books of 2020 so I cannot wait to read the next book and anything else Tracy Deonn writes!
Add to Goodreads